Products We Carry
We offer our own brand, "Pure Anada", as well as other items made in our lab: soaps, bath bombs, lotions, body butter, hair care and more!  We also enjoy featuring other locally or Canadian-made products in our little boutiques.  We especially appreciate brands who love using natural, botanicals in their formulas…just like we do! 
Beauty Advice
Visit our boutiques during regular business hours for product recommendations and to swatch/sample Pure Anada products. We would love to help you clean up your beauty routine!
Consultations
A consultation is an individual makeup lesson with a Pure Anada makeup expert.  They will help you choose the right products for your skin and bring out your best features.  It's a time dedicated just to you, so an appointment is necessary.  Email us with times and dates that work best for you - [email protected] 
Cost: $50 (adult) and $25 (under 18) - redeemable back in Pure Anada product
Cost: (Cochrane Pure Anada Boutique) $100 - $50 redeemable back in Pure Anada product
Makeup Artistry
Pure Anada doesn't offer makeup artistry services for special occasions.  However, we would be happy to put you in touch with a local, independent Pure Anada makeup artist for your special occasion makeup. Contact us for more details!
Flagship Boutique
In August, 2014, Pure Anada opened it's first cosmetic lab and beauty boutique in Morden, Manitoba. Prior to this exciting event, Pure Anada makeup and skincare was handcrafted "behind the scenes" in various workspaces - starting in Candace Grenier (founder's) kitchen, then a workshop on her acreage.  The storefront was charming, but we soon outgrew the production space, so we took the opportunity to expand into our current facility located just across the street.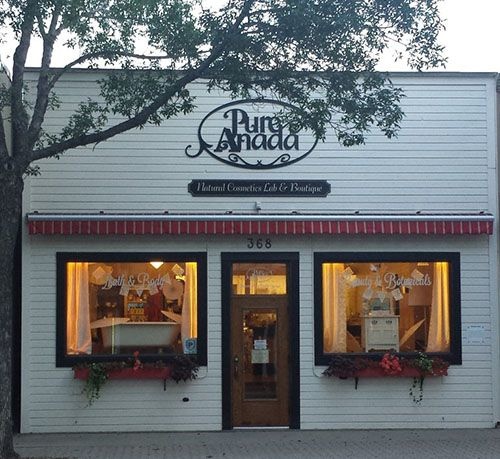 Locations